Custódio heads Braga into maiden European final
SC Braga 1-0 SL Benfica (agg: 2-2, Braga win on away goals)

Custódio's first-half header sent Braga through to the final, where they will face FC Porto, despite late pressure from the visitors.
SC Braga overcame SL Benfica 1-0 on the night, and on away goals over the two legs, to reach the UEFA Europa League final in Dublin.
Domingos Paciência's team progressed to the first all-Portuguese UEFA final – the northern club's debut on such an elevated stage – through a combination of Custódio's first-half header and the away goal scored by captain Vandinho, suspended here along with Benfica's Pablo Aimar, seven days earlier. Having restored parity in the tie, Braga bravely resisted everything Jorge Jesus's side threw at them to book a meeting with FC Porto.
As in the Liga table, where one place separates the two clubs, there was little between them here. Lima's cross required the headed intervention of Benfica captain Luisão to keep out Mossoró. Lima himself was on the end of an even better ball from right-back Miguel Garcia but could only poke it over. Benfica's best early sighter was a Carlos Martins free-kick that goalkeeper Artur palmed behind, yet the clue to the first goal came in Braga's quality service from the flanks.
When Hugo Viana's delivery extracted the maximum from a corner won by Albert Meyong's persistence, defensive midfielder Custódio rose highest to head powerfully towards the top-right corner. One-nil to the Arsenalistas. Braga's next threat came disguised as innocuous, Viana's set piece being taken short for Miguel Garcia to scuff a shot centimetres wide.
The danger to Braga was target man Óscar Cardozo and on the half-hour Javi García and Javier Saviola both nearly profited from one of his many knock-downs. Artur saved well in each case. Largely, though, centre-backs Paulão and Alberto Rodríguez dealt with the menace of Benfica's first-leg match-winner. Instead, Benfica's closest moment of the first period came when Cardozo went wide and crossed for Saviola to strike against the inside of a post. Fábio Coentrão turned the rebound over.
The determined attack led by Coentrão and César Peixoto, and almost finished by Savioa, moments after half-time pointed to the determination of Benfica – UEFA Cup runners-up in 1983 – to reach their first continental final since the 1990 European Champion Clubs' Cup. Artur stretched to keep Nicolás Gaitán's centre from Cardozo. Mossoró's splendid run into the visitors' box had Braga's fans on their feet, before Coentrão had them on tenterhooks until Artur beat Benfica's fleet-footed left-back to a through ball.
However, with tension levels rising inside this picturesque stadium, the suspicion remained that the home crowd's Irish flags were tempting fate. Artur saved well from Gaitán. Luisão nodded the resulting corner just wide. Then Paulão cleared off the line from Eagles substitute Alan Kardec. After Viana and Custódio so nearly made it safe, the referee's final whistle did precisely that.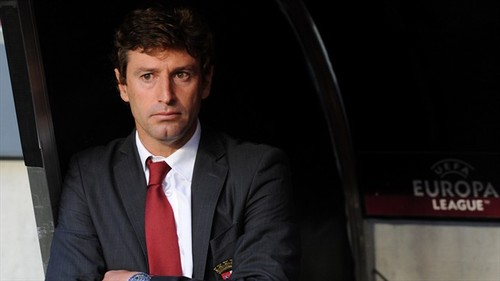 SC Braga's success over the past two seasons has resulted in a swell of support for the northern club from across Portugal, according to coach Domingos Paciência.
Whether this originated from the Arsenalistas' unsuccessful duel with SL Benfica – against whom they must overturn a 2-1 deficit in the second leg of their UEFA Europa League semi-final – for the Liga title last season, Paciência is not quite sure. What he is certain of, however, is that people nationwide have taken the team to their hearts following what has been the best campaign in the Minho side's 96-year history.
"Last season was very important," he told UEFA.com. "I felt, apart from the Braga fans, that a nation was supporting Braga. I don't know if it was because we were [competing] against Benfica, because Benfica are a club which has millions of fans, but I felt Braga united many people."
Though Braga will not replicate their runners-up finish of 12 months ago, they are third with two league games remaining, Paciência feels that support has only been strengthened by Braga's European exploits. "This year that has happened again," he said. "People are happy about what Braga have been doing. At a national level I feel there is great affection for this team, for what it has done."
What Paciência's team have done is reach the semi-finals of a UEFA competition for the first time, having started the season with a debut appearance in the UEFA Champions League group stage, accounting for seasoned European campaigners Liverpool FC and FC Dynamo Kyiv en route to the last four.
The campaign, says the former Portugal striker, has been a testing one. "Starting the season very early and then playing in the third qualifying round, the play-offs and then the group stage wasn't just demanding in physical terms, but also psychologically because the players had never participated in the Champions League."
Whatever happens in the second leg at the Estádio Municipal de Braga, whether it is Braga or Benfica who will travel to Dublin for the final on 18 May, Paciência and the supporters can look back on 2010/11 with a huge amount of satisfaction.
"The image is that of a warrior-like team, a team that works, and that also helps the people to remember what football can actually be," added the former FC Porto player. "A team that works can have success − that leaves me with pride in a certain way, for being the leader of this team and for feeling that these fans, in this city, are living through unique moments in their history. It makes me proud that I am the one that is leading this team."